Aquasensor Funis-wall. Sensorfaucet for wall mounting.
Info >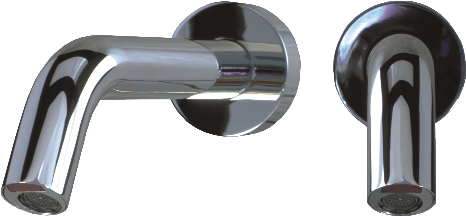 •
Wall mounting. The main components including the
batteries are mounted within a control box for assembly
underneath the wash basin.
•
Fixed water-temperature. Pre-mixed or only cold water.
•
For correct adjustment of the water flow, the supply pipes
should be connected to an angle stopper tap (not
included).
•
Flexible connection hose with 1/2" swivel included.
•
Operates 6 years on 4 Alkaline AA batteries at 100 cycles
on average per day (included). Also available with trafo
for mains connection.
Funis-wall 190mm batt.
Aquasensor
Wall mounting
Batteries (included)

Funis-wall 190mm trafo
Aquasensor
Wall mounting
Trafo 230-6V

Funis-wall 90mm batt.
Aquasensor
Wall mounting
Batteries (included)

Funis-wall 90mm trafo
Aquasensor
Wall mounting
Trafo 230-6V